SLAM has partnered with the Black Coaches Association on a content series that will spotlight Black coaches from every level. To learn more about the past and present of the BCA, and to register as a member of the BCA, click here.
The Valentine brothers always pushed each other to be the best versions of themselves. Ever since they were young, if Drew would drop 20 in a game during an AAU tournament, Denzel would take it upon himself to score 25. Competing against one another got intense from time to time, too, but at the end of the day, they just wanted to make each other proud.
"He's always been a leader," Denzel Valentine says of his brother, who is two years older. "People have always looked up to him because of his ability to motivate and relate. I've experienced a lot through the game of basketball and he's a big reason for that."
Growing up in Lansing, MI, the two were standouts at Sexton High School and were coached by their father, Carlton. Drew was a two-sport athlete; he averaged 15.5 points and 11.9 rebounds per game as a junior, earning all-state honors, and then did his thing on the football field as a two-year starting QB. He also served as captain of both teams.
Meanwhile, Denzel solidified himself as the No.1 player in the state and was nationally-ranked as a shooting guard. Due to injury, the brothers played only three games together in high school, but that wouldn't be the last time they'd be together on the same squad. Drew went on to play at Oakland for four years and led the Golden Grizzlies to two NCAA tournament appearances, finishing 4th all-time in defensive rebounds (480) and 8th in offensive rebounds (232). Meanwhile, Denzel suited up at Michigan State, where he'd eventually earn first-team All-American honors and win AP Player of the Year in 2016.

After college, Drew pursued a career in coaching and joined Tom Izzo's coaching staff in 2013 as a graduate manager, putting him on the same team as his brother. During the summer, they'd train together, too, with Drew putting Denzel through workouts. Looking back, they both say that those sessions are some of the most cherished moments of their individual basketball journeys.
"Those moments were special, man," says Denzel, who is currently suiting up for the Maine Celtics, Boston's G League affiliate. "He really knows how to get the best out of people. The best coaches are life teachers and Drew is great at teaching the game of basketball and the game of life, and will only get better as he gets more experience with both."
Denzel has watched his brother's leadership and competitiveness ascend him to the level he's always aspired to reach one day: becoming a head coach. After serving as an assistant coach at Loyola for four years, Drew was promoted to head coach last April after Porter Moser accepted the head coaching job at Oklahoma, making him the youngest coach in college basketball at 29 years old.
Moser had cultivated a winning culture during his time at Loyola and established the program as one of the most respected mid-majors in college basketball—who could forget their magical run to the Final Four in 2018? Now, as a first-year head coach, the 30-year-old is continuing to carry the program towards success. This season, Loyola has won 12 of their last 14 games and was on a 10-game winning streak before losing to Missouri State. This stretch still has the Ramblers on top of the standings in the Missouri Valley Conference.
"We have the competitive mindset of playing for championships," the 30-year-old head coach says when asked about the Ramblers' success. "Does it feel great that I'm a first-year head coach and my team is doing so well? Absolutely, it does. Does it reassure me that what I'm doing is right? yes The standard is what we hold [the team] accountable to but it's also what they choose to believe in and trust in, so the players deserve all the credit."
With that, Valentine's impact goes far beyond just the court, and he's continued to make it a point to be both competitive, and supportive as a coach—during his four-year tenure as an assistant at Loyola, he often played one-on- one with his players before and after practice. Today, he's the type of coach who will debate with them about why Gunna's DS4Ever doesn't compare to Drake's Nothing Was the Same, and why the blog-era boys (Drake, J.Cole, Kendrick Lamar, Wale, Big Sean) are far superior to the new generation of rappers. He'll even pull up a film session in a pair of A Ma Maniere Jordan 1's on his feet, which has earned him compliments from his players.
"Creating an environment where everyone feels comfortable is probably my biggest thing as a person," Drew says. "I want people to feel like they can be themselves and mess up. If you're doing your best and you miss a shot, or if you're struggling trying to juggle five classes, the scouting report, your girlfriend, weight room stuff , and you feel overwhelmed? It's okay…we can talk about it and you're going to be accepted."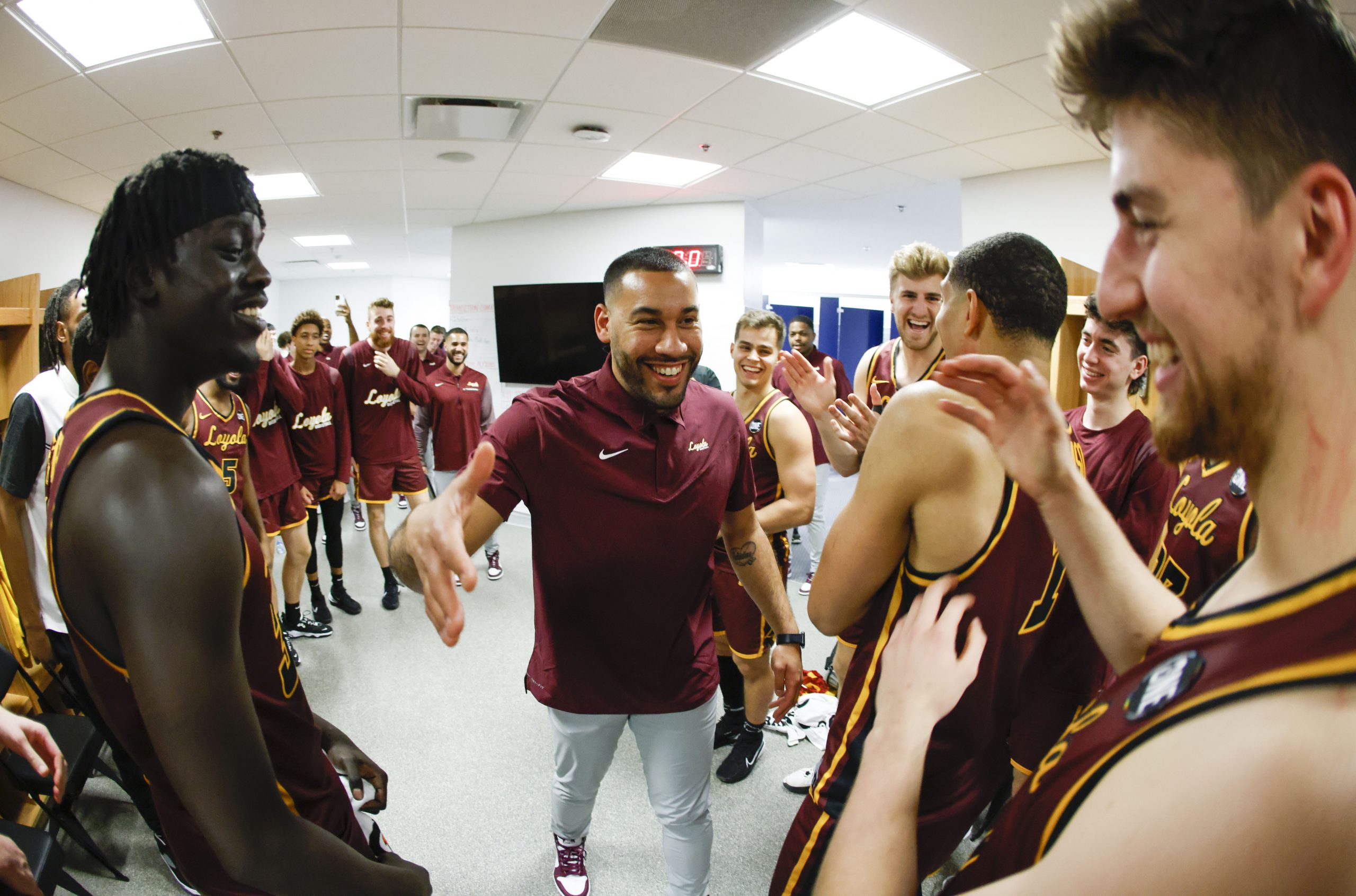 It's a skill he developed during his time as a graduate manager at Michigan State. There, he learned how to command the respect of the older coaches on staff, while remaining cordial and in tune with the student-athletes on the team.
"I've always been able to toe that line of being accepted by my peers, while letting them know you can't be on BS around me," Drew says. "It makes it easy for me as a head coach and it also helps that my first coaching job was with my brother at Michigan State. I knew if I could hold my brother accountable—someone that I really care what they think about me, and still handle my responsibilities with the rest of the players and staff, I knew I'd be good. I think that set me up for success."
The Valentines grew up as Spartan fans, and Drew says he fell in love with the game after watching the Spartans win a national championship in 2000. He also lists Mateen Cleaves, Jason Richardson, Morris Peterson, and Charlie Bell as his childhood heroes. Their father, Carlton, played there in the 80s under legendary coach Jud Heathcote and then went on to play in the World Basketball League before a five-year stint playing overseas in Sweden.
When asked why his personality is well tailored for coaching, Valentine says his upbringing has a major impact.
"It goes back to how I was raised," he explains. "My mom [Kathy] is a teacher, and my dad was our coach and did basketball training on the side at another gym. She was always on me and my brother's ass, making sure we were doing everything we could from an academic standpoint and then my dad was on us, making sure we were doing everything we could so that we could be the best athletes we could be. "
There's not a day that goes by that Drew doesn't think back to his father's influence and how he's helped change people's lives. Carlton was a youth adviser at Highfields and served as an assistant at East Lansing High prior to the head coaching gig at Sexton.
"My dad embedded in me the importance of being different. His thing was getting me to understand I had to do things differently to actually be different from everyone else."
He also thinks daily about his own position as one of the few young Black head coaches in the country leading successful programs, as well as other Black coaches in his circle, including George Mason's Kim English and Jacksonville's Jordan Mincy, and how they're all ushering a new generation of coaches in college basketball.
"My friends, whether that's Kim English or Jordan Mincy; we feel like we're getting the opportunity and we got to take advantage of it," says Valentine. "I feel extra motivation to be a positive influence for the next generation of coaches. It means a lot to me and I think about it almost everyday."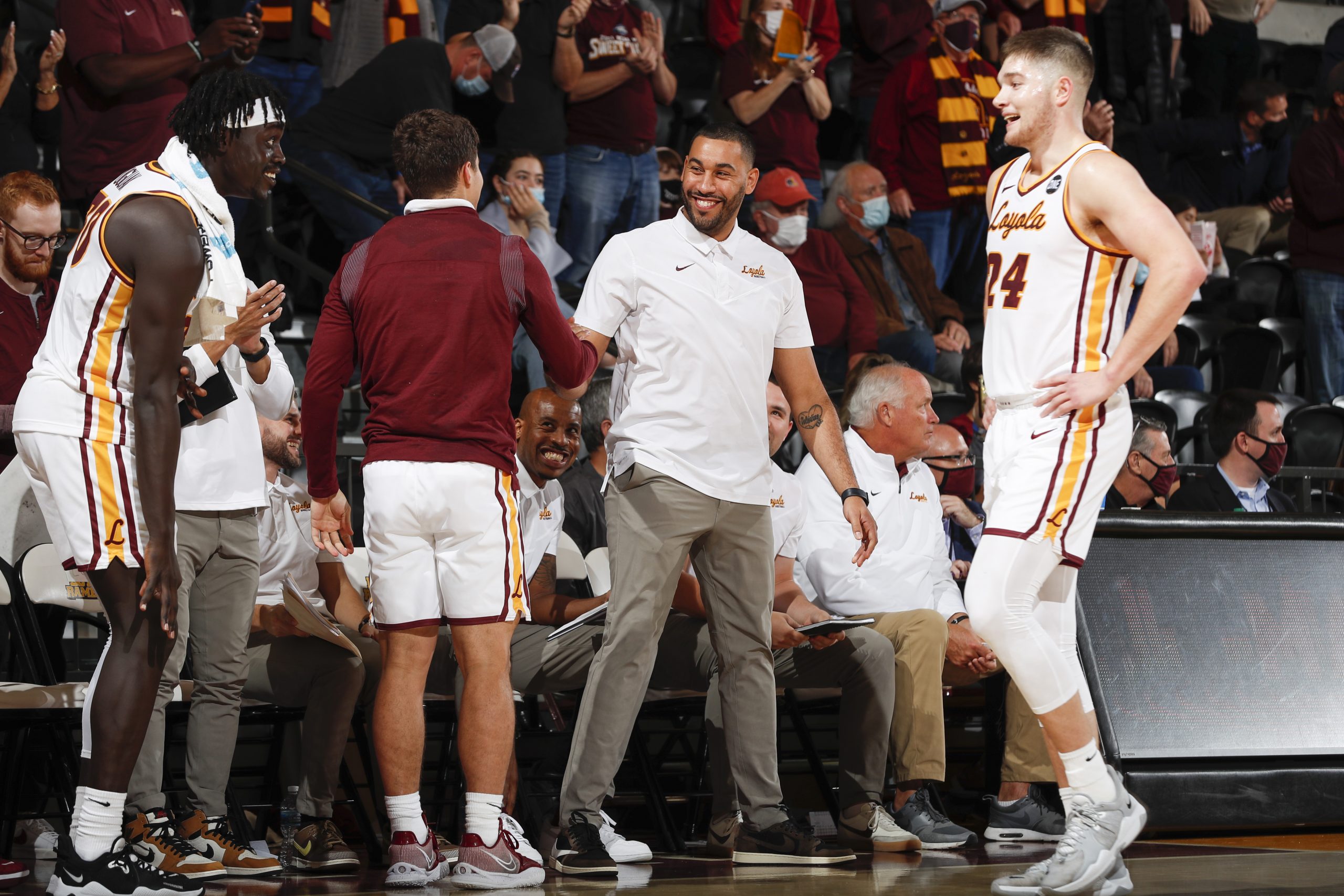 As the Bears continue to hold their own as one of the top teams in their conference, Valentine is ready to continue carrying his family's legacy and solidifying himself among the legends who have come before him.
"Whether you're playing, whether you're coaching, whatever you're doing, you got to want to be one of the best," Valentine says. "That's what I want to be. I don't know if that's me being too bull-headed. I hope that's not me sounding entitled or thinking it's easy because I know it's not. I just want to be one of the greats."
Luke Akinsola is a freelance writer that covers sports, music and pop culture. A full-time marketing and communications professional who also worked as a TV producer at Fox Sports. Prior to his current work, Akinsola covered the women's and men's national basketball teams during the 2016 Olympic Games in Rio. He's also a proud R&B Connoisseur and Tar Heel alum.
Steve Woltman/Loyola Athletics.